Oscar
Seal Point
Our stud cat relaxing in his caboodle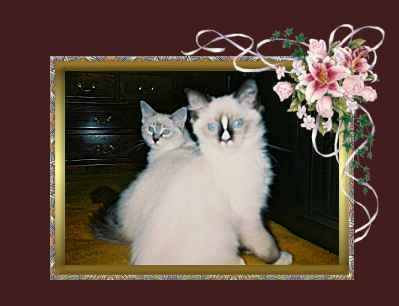 Olivia (rear of picture)
Lilac-Mitted Lynx Point
2 years old in September
Olivia produces large litters and has had a great variety of kittens.
Marina
Blue Mitted
3 years old in September 2002
Marina has gorgeous sapphire blue eyes and is a caring mother and is also Queen Bee of the house.
Emmy
Seal Point
18 Months Old
Marina's daughter from her first litter.
Emmy has a very shy nature but is a great mum.